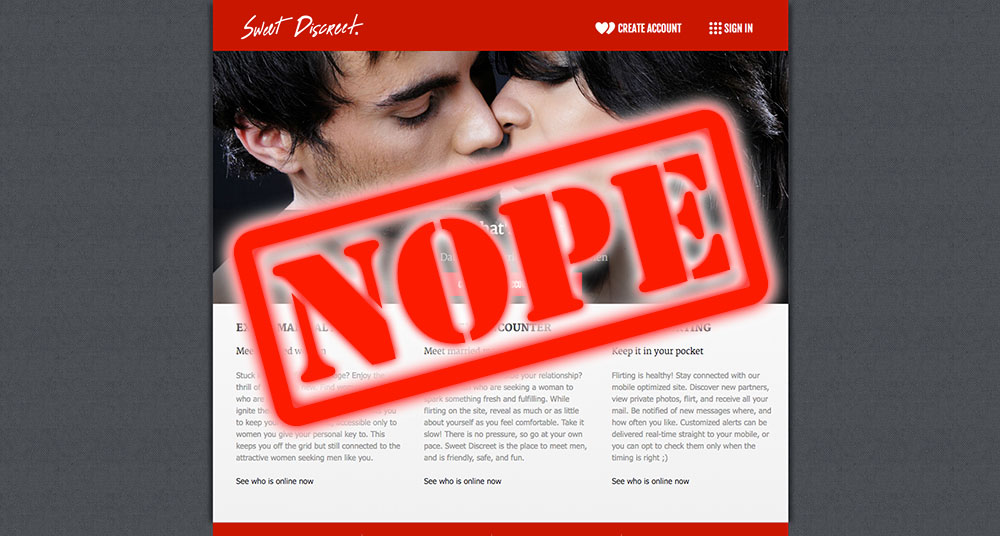 The Question
Discerning dude who wants to meet a sweet mama for some undercover lovin': "Hey Frankie. How do I get laid at SweetDiscreet.com?"
Me: "SweetDiscreet.com? It's a breeze. You're gonna need a few things first though. Ready? Alrighty, go and get yourself a bunch of sugar cubes, a feather duster, and some charcoal briquettes. Random? Hardly. See, the sugar is to show her you're sweet, the duster is to show her you're kinky, and the charcoal is to show her you're hot. Not bad, right? Okay, gather it all up and put it in a box and place it on a table in front of you. Now get ready for the most important part. You're going to cast a spell! Didn't see that coming, did ya? Anyway, hold your hands over the box and close your eyes. Take a deep breath and repeat these three magic words: you fucking don't!"
Holy shit. The only thing more ridiculous than trying to cast a spell to get laid is thinking you're gonna get laid at SweetDiscreet.
But why, Frankie? What's wrong with SweetDiscreet.com?
What's wrong? Lemme tell you what's wrong…
What's wrong is the same three motherfucking things that are always wrong with these scam-a-fucking-rific so-called dating sites:
Fake members, fake profiles, and fake emails.
Without fail.
Tell me more, Frankie.
Sure thing!
"Sweethaarts".
That's what you'll be dealing with.
Ridiculous spelling and all.
But I want details!
Happy to provide 'em!
As is always the case, we're going to direct our attention to the terms and conditions page. Why? Because the terms page is where you have a chance to find out what's actually going on!
The "Sweethaarts" thing I mentioned a second ago? The terms page is where you get to actually find out what the hell SweetDiscreet is talking about when they mention them. Spoiler alert: it's nothing good.
The same holds true for every dating site, by the way. Before you ever think of signing up to a dating site, take the time to go and actually read what's in their terms and conditions. A couple minutes there can save you hours of frustration later. Not to mention the cash you can save yourself by not getting duped into signing up for something bogus.
Anyway, let's get to the meat of the matter… SweetDiscreet's terms.
Section 4.K. gives us this little bit of gold:
For Entertainment Purposes

Sweethaarts Service:

This site uses fantasy profiles called 'Sweethaarts' which do not correspond to actual members.

You understand, acknowledge, and agree that some of the profiles used on this site may be fictitious and operated by site administrators and or its contractors. Nothing contained in a Sweethaart Profile is intended to describe or resemble any real person, and is included on the Website for your personal enjoyment or entertainment. If you respond to, or initiate any communications or interactions with Sweethaarts it will not result in a physical meeting between the Sweethaart and You.
And for an extra laugh…
Sweethaart profiles and their related messages are conspicuously labeled with a heart icon also known as the Sweethaarts logo.
I'm including that part here specifically so I can say…
Who in the fuck cares?
Seriously!
Label the fake profiles. Don't label the fake profiles. What difference does it make? They're fake profiles! Most dudes will have no clue what the little "Sweethaarts" icon means anyway.
And that's the point. That's what sites like this count on. That no one will read the terms and therefore won't be bothered by the fake profiles. Of course, the only reason they aren't bothered is because they have no clue that they're interacting with fake profiles!
Anyway, fuck that.
I don't believe you, Frankie!
Aw dude. Come on. You're killing me here.
Read that shit again. Pay special attention to the word "fictitious" and its proximity to the word "profiles".
Go on. We'll wait.
There. See? Wasn't making it up.
So how the hell am I supposed to get laid?
Sign up to a legit dating site.
Click here and check out the sites I've listed. Sign up to one of those sites and you'll find loads of women who want to get laid. No bullshit attached. No scams.
TL;DR
SweetDiscreet.com? Nope. Scam.